| | |
| --- | --- |
| | Festival of Young People 2017 |

In Medjugorje on the Apparition Hill Archbishop Hoser blesses pilgrims.
Special Envoy of the Holy See named for Medjugorje
On February 11, 2017, the Holy Father entrusted Archbishop Henryk Hoser, S.A.C., bishop of Warsaw-Prague (Poland), to go to Medjugorje as Special Envoy of the Holy See.
The mission has the aim of acquiring a deeper knowledge of the pastoral situation there and above all, of the needs of the faithful who go there in pilgrimage, and on the basis of this, to suggest possible pastoral initiatives for the future. The mission will therefore have an exclusively pastoral character. Archbishop Hoser, who will continue to exercise his role as bishop of Warsaw-Prague, is expected to finish his mandate as Special Envoy by summer of this year.
CIVITAVECCHIA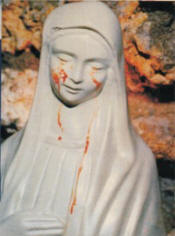 On February 2nd 1995 a small chalk statue, bought in Medjugorje and representing our Lady the Queen of the Peace, began to weep blood tears in front of Jessica Gregori, a six year-old child, in the garden of family Gregori's house in Pantano (Civitavecchia)
There have been 14 lachrymations, one of which in the presence and in the house of the bishop Mons. Girolamo Grillo.
In Civitavecchia besides the phenomenon of the blood lachrymations, the family Gregori has received messages (some of which contain secrets that are only known to the bishop). The messages have been given during some apparitions occurring from July 2nd 1995 to May 17th 1996.


Zdravo Kraljice Mira (song)
Message of November 25, 2017
"Dear children! In this time of grace, I call you to prayer. Pray and seek peace, little children. He who came here on earth to give you His peace, regardless of who you are and what you are – He, my Son, your Brother – through me is calling you to conversion, because without God you do not have a future or eternal life. Therefore, believe and pray and live in grace and the expectation of your personal meeting with Him. Thank you for having responded to my call."


Guariscimi (song)
December 2, 2017
(Message given to Mirjana)
"Dear children, I turn to you as your mother, the mother of the just, the mother of those who love and suffer, the mother of those who are holy. My children, you too can be holy – this depends on you. Those who are holy are those who immeasurably love the Heavenly Father, those who love Him above all. Therefore, my children, always strive to be better. If you strive to be good you can be holy even though you may not think so of yourselves. If you think that you are good, you are not humble, and arrogance distances you from holiness. In this peaceless world full of threats, your hands, apostles of my love, should be extended in prayer and mercy. And to me, my children, give the gift of the rosary, the roses which I love so much. My roses are your prayers pronounced with the heart and not only recited with the lips. My roses are your acts of prayer, faith and love. When my Son was little, he said to me that my children would be numerous and that they would bring me many roses. I did not comprehend Him. Now I know that you are those children who are bringing me roses when, above all, you love my Son, when you pray with the heart, when you help the poorest. Those are my roses. That is the faith which makes everything in life be done through love, not knowing arrogance, and always ready to forgive; never judging, always striving to understand one's brother. Therefore, apostles of my love, pray for those who do not know how to love, for those who do not love you, for those who have done evil to you, for those who have not come to know the love of my Son. My children, I ask this of you because, remember, to pray means to love and to forgive. Thank you."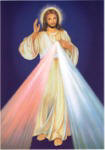 Confidiamo in Te (song)