SAINTS AND BLESSED SAY:
Lourdes
November 7, 1999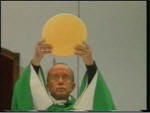 Eucharistic Miracle
(During the movie, watch carefully the Eucharist on the paten.)

CIVITAVECCHIA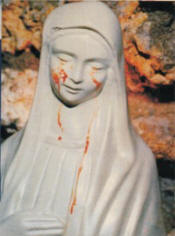 On February 2nd 1995 a small chalk statue, bought in Medjugorje and representing our Lady the Queen of the Peace, began to weep blood tears in front of Jessica Gregori, a six year-old child, in the garden of family Gregori's house in Pantano (Civitavecchia)
There have been 14 lachrymations, one of which in the presence and in the house of the bishop Mons. Girolamo Grillo.
In Civitavecchia besides the phenomenon of the blood lachrymations, the family Gregori has received messages (some of which contain secrets that are only known to the bishop). The messages have been given during some apparitions occurring from July 2nd 1995 to May 17th 1996.

..I invite you to open yourselves and to live, taking the saints as an example. Mother Church has chosen them, that they may be an impulse for your daily life...
(Mess. Oct 25, 1994)
...Imitate the lives of saints so that they may be an incentive and teachers on the way of holiness....
(Mess. Oct 25, 2004)
...Imitate the lives of saints and may they be an example for you;...
(Mess. Sept 25, 2006)
...I call you to imitate the lives of the Saints. May they be, for you, an example and encouragement to a life of holiness....
(Mess. July 25, 2007)
...May saints be models to you and an encouragement for holiness....
(Mess. Oct 25, 2017)

Zdravo Kraljice Mira (song)
Message of
January 25, 2020
"Dear children! Today I am calling you to pray even more, until you feel the holiness of forgiveness in your heart. There must be holiness in the families, little children, because there is no future for the world without love and holiness – because in holiness and joy, you give yourselves to God the Creator who loves you with immeasurable love. This is why He sends me to you. Thank you for having responded to my call."


Guariscimi (song)
February 2, 2020
(Message given to Mirjana)
"Dear children! By the act of the decision and love of God, I am chosen to be the Mother of God and your mother. But also by my will and my immeasurable love for the Heavenly Father and my complete trust in Him, my body was the chalice of the God-man. I was in the service of truth, love and salvation, as I am now among you to call you, my children, apostles of my love, to be carriers of truth; to call you to spread His words, the words of salvation, by your will and love for my Son: that with your actions you may show, to all those who have not come to know my Son, His love. You will find strength in the Eucharist-my Son who feeds you with His Body and strengthens you with His Blood. My children, fold your hands [in prayer] and look at the Cross in silence. In this way, you are drawing faith to be able to transmit it; you are drawing truth to be able to discern; you are drawing love that you may know to love truly. My children, apostles of my love, fold your hands in prayer, look at the Cross. Only in the Cross is salvation. Thank you."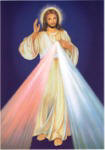 Confidiamo in Te (song)